The 10 Leading Task Management Tools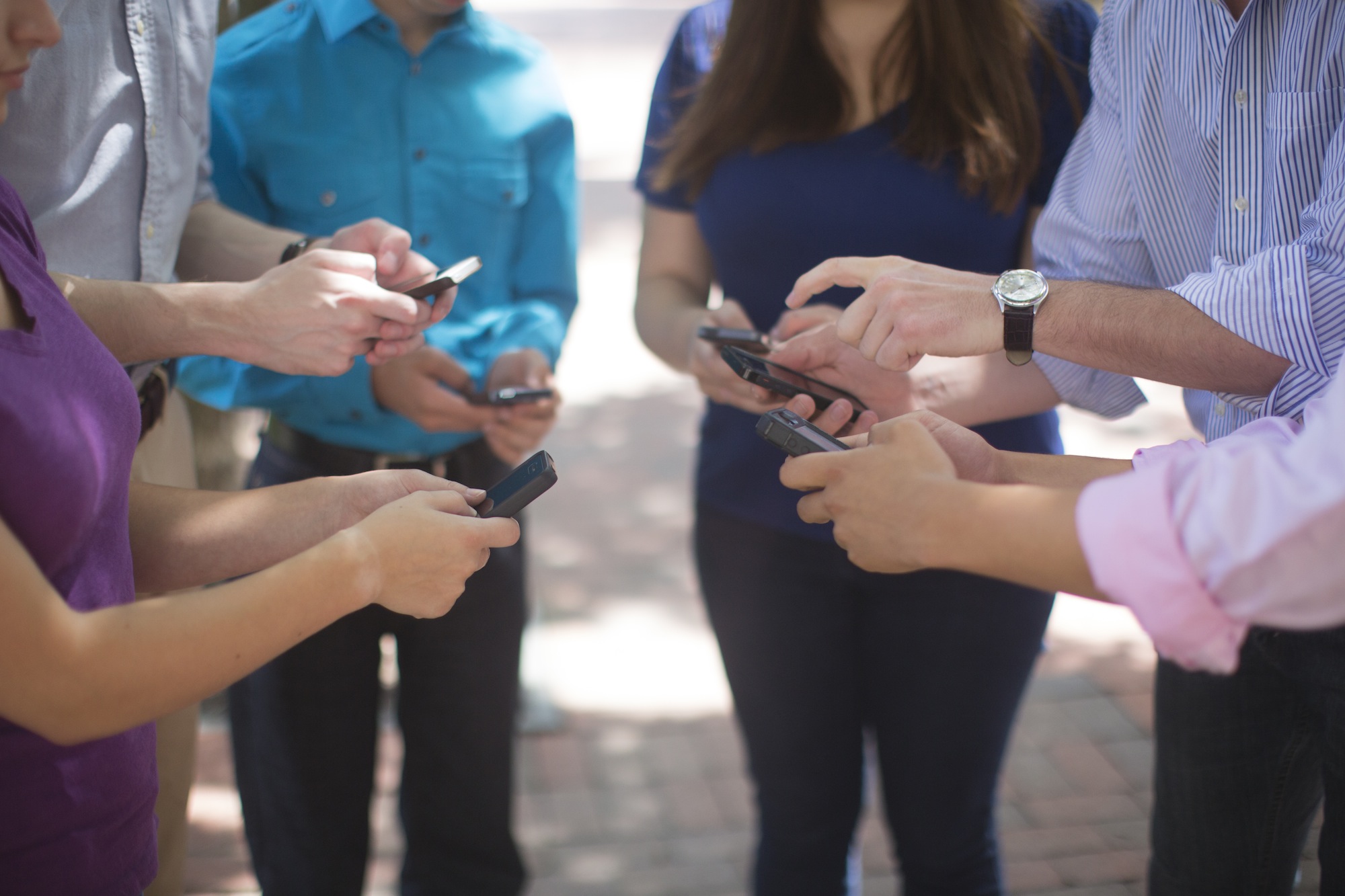 With such a huge proliferation of task management, getting things done (GTD) apps, and checklist software, it's no surprise that many attempts have been made to try to simplify the evaluation and selection process.
But have you ever tried to find something in Capterra, one of the most comprehensive software catalogs out there? There are 50+ software solutions listed in each of the following categories: workflow management, task management, and project management.
How are you supposed to compare or evaluate what's best for your specific situation?

To address this crazy amount of information, 'best of' lists such as 'best GTD apps', 'best task management tools', and 'best checklist software' have proliferated. In addition, you have many articles and posts that try to tackle the same problem. These lists and articles normally consist of an interminable list of features that can be complex to go through and hard to compare even for the most technical among us.

We came up with a unique approach to test each platform against the same base case scenario that's appropriate for any industry.
Our Approach Is Different
We decided to do something different and come up with the ultimate quick reference guide to solve this problem.
First, we selected the market leading 10 task management solutions with a focus on getting things done (GTD.) Learn more by downloading our Ultimate Guide to Accountability in the Workplace here: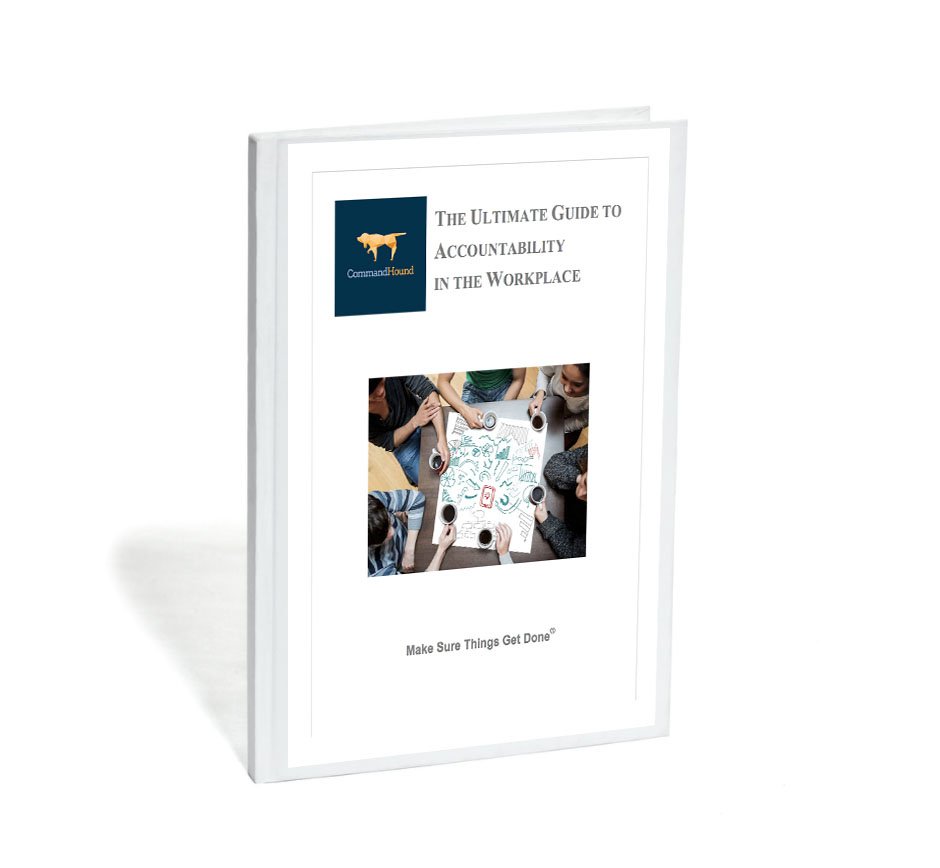 Then, rather than evaluating that all of our selections have the basic functions (which they all pretty much do), we focused on what makes them unique.
To find the mythical 'best task management software for businesses', we developed a base-scenario of typical tasks for any HR department and reviewed each platform against it. Our sample process was simple:
Set up a morning HR meeting that occurs daily
Set up reminders to onboard a new employee when needed
Set up a hiring checklist template that can be used every time a new employee needs to be onboarded
This no-frills and straight-to-the-point approach helped us quickly identify what makes each of the selected management solutions unique, and, ultimately, which of these selections is best to make sure you get things done, without letting anything fall through the cracks.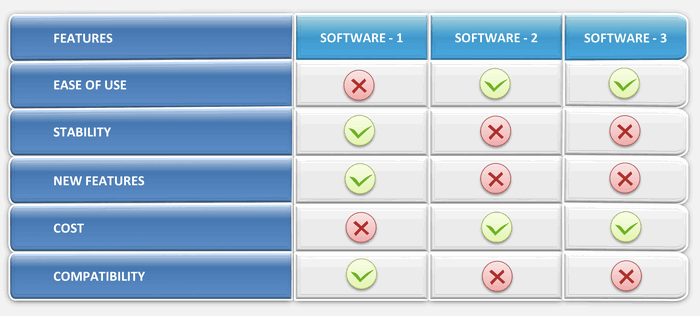 We tested each checklist software against our base-scenario, to see which was the most efficient.
The Management Solutions
After carefully combing through more than 50 potential task management and checklist software, here is our curated list of finalists in alphabetical order:
Any.do
Asana
Clever Checklist
CommandHound
Microsoft To-Do
Omnifocus
Things
TickTick
Todoist
WeDo
The Results
1. Any.do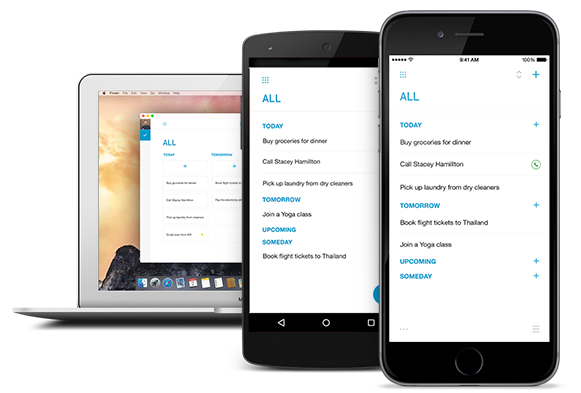 The Key Differentiator:
Moments is arguably the most unique feature in Any.do. It gives you a visual and interactive overview of upcoming tasks to help you plan your day. Sadly, it's only available on mobile platforms
The idea of this feature is to give users a good perspective first thing in the morning to help plan a successful day. It can also be customized to appear at anytime, for example, to organize daily tasks the night before
The Base Case Setup:
Time to set up: < 20 minutes


What We Liked:
Great user interface and user experience on all platforms, especially the iOS app – things like creating recurring lists or assigning responsibilities feel easy and simple
Ability to copy and paste a group of tasks in one go from a spreadsheet to quickly create our Hiring Checklist
What We Disliked:
It doesn't enable you to view sub tasks on the dashboard, and users subscribed to the free version of the software only have access to 5 Any.do Moments per month
After creating a recurring daily morning compliance meeting, future tasks do not show up in 'tomorrow' or in upcoming tasks
2. Asana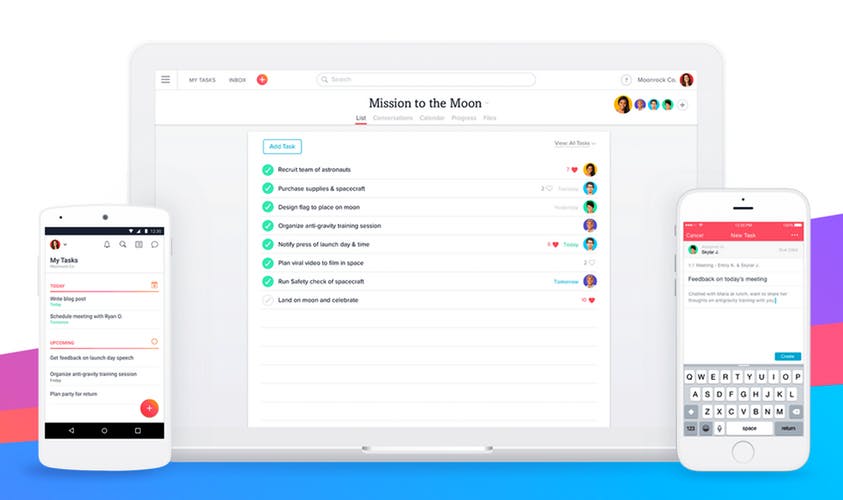 The Key Differentiator:
Asana is a hybrid between a getting things done (GTD) app and a more robust project management solution (e.g., projectcentric, task dependencies, etc.)

with more functionality for team collaboration than your average task management app
Very strong in-app team collaboration forum (i.e., bulletin board/Slack type discussion) for teams to collaborate without leaving the application
The Base Case Setup:
Time taken to set up: 45 – 60 minutes


What We Liked:
Easy to communicate with team members and track conversations specific to each project within the platform
The software is free for up to 15 users without a time limit, so your team can get a good feel for the tool before migrating to the paid version
What We Disliked:
Asana doesn't have all the required functionality for a good project management tool such as Gantt charts, budgeting, issues tracking, change control, but has an overwhelming amount of features for a task management tool, so it's kind of 'neither here, nor there
With so much functionality, it is confusing to figure out how to use properly right from the start
3. Clever Checklist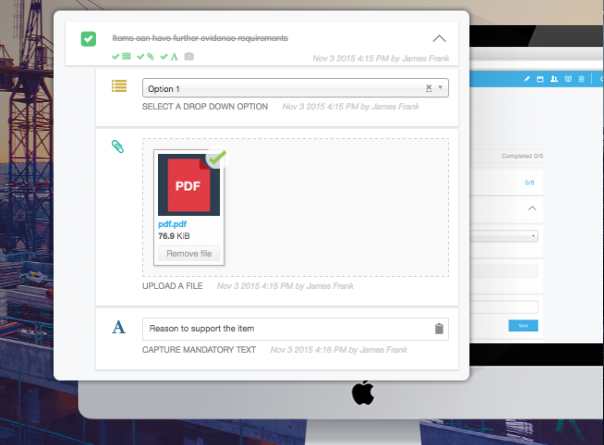 The Key Differentiator:
Clever Checklist

is more of a

business process

management tool than other task management or checklist tools. The app seems to have been built to help automate business processes with internal or external regulatory and/or compliance requirements
Even though you could implement a 'Proof of Completion' feature in other apps like CommandHound, Clever Checklist is more formal about it – for example, for business travel requirements, users can follow the procedures from the checklist template and submit required documents as proof of completion
Our Base Case Setup:
Time taken to set up: 20 – 50 minutes



What We Liked:
The evidence feature itself and the ability to customize templates to tailor evidence requirements as needed
The ability to add detailed procedural information to ensure tasks are done properly
What We Disliked:
It can seem over complex given all the features
The software/response time seems slow
You cannot create a simple to-do list without preselecting a template – not a great tool to keep track of simple things
4. CommandHound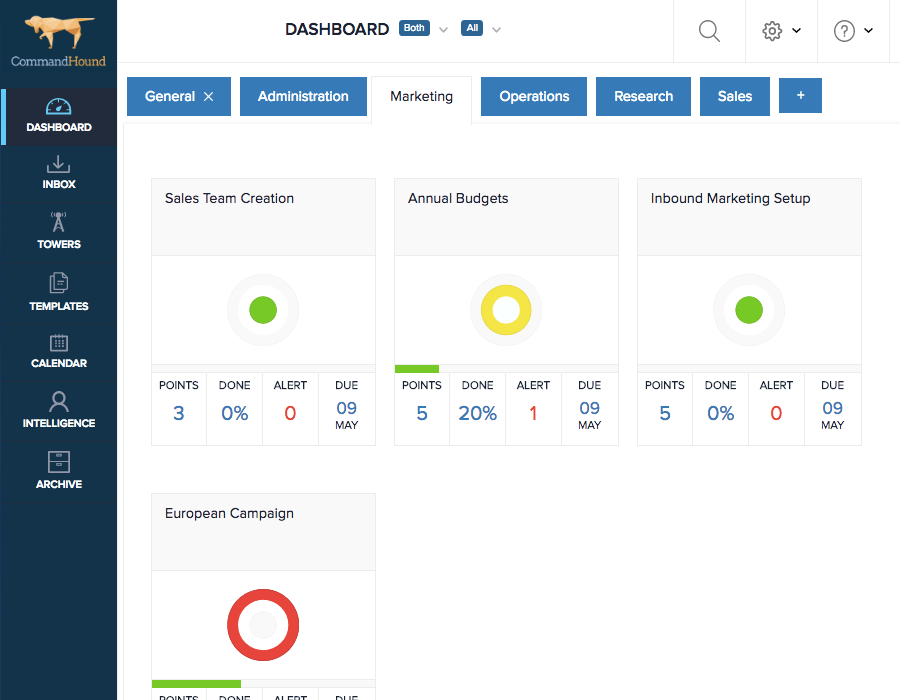 The Key Differentiator:
CommandHound is a B2B-only solution built from the ground up to drive accountability
It is also the only tool that allows you to define

escalation

paths with different levels of urgency, and the only tool that keeps track of completion performance

by individual and

by process

We can see how this level of escalation and individual performance tracking would drive accountability and on-time execution
CommandHound also offers the strongest security framework to tightly manage who can see what to be able to integrate teams at all levels with different confidentiality requirements in the same process
Our Base Case Setup:
Time taken to set up: 15 – 30 minutes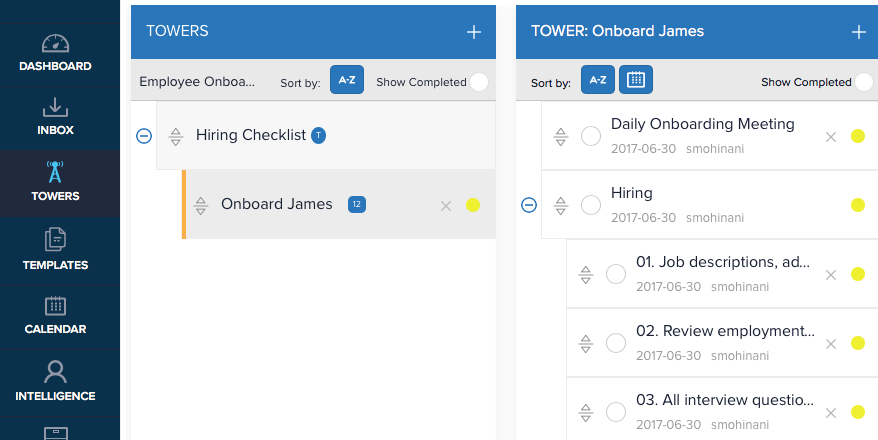 What We Liked
The dashboard gives a great overview of exactly what tasks and projects are progressing according to plan and which require attention
The employee accountability/individual tracking and escalation features allows users to truly delegate tasks to enable a 'manage by exceptions' model that has the potential to save a lot of time
What We Disliked:
You cannot define tasks at the hour/minute level (apparently to prevent micromanaging)
You can define Notes at the task level but there is no team chat option within the system for more collaboration at the team level
5. Microsoft To-Do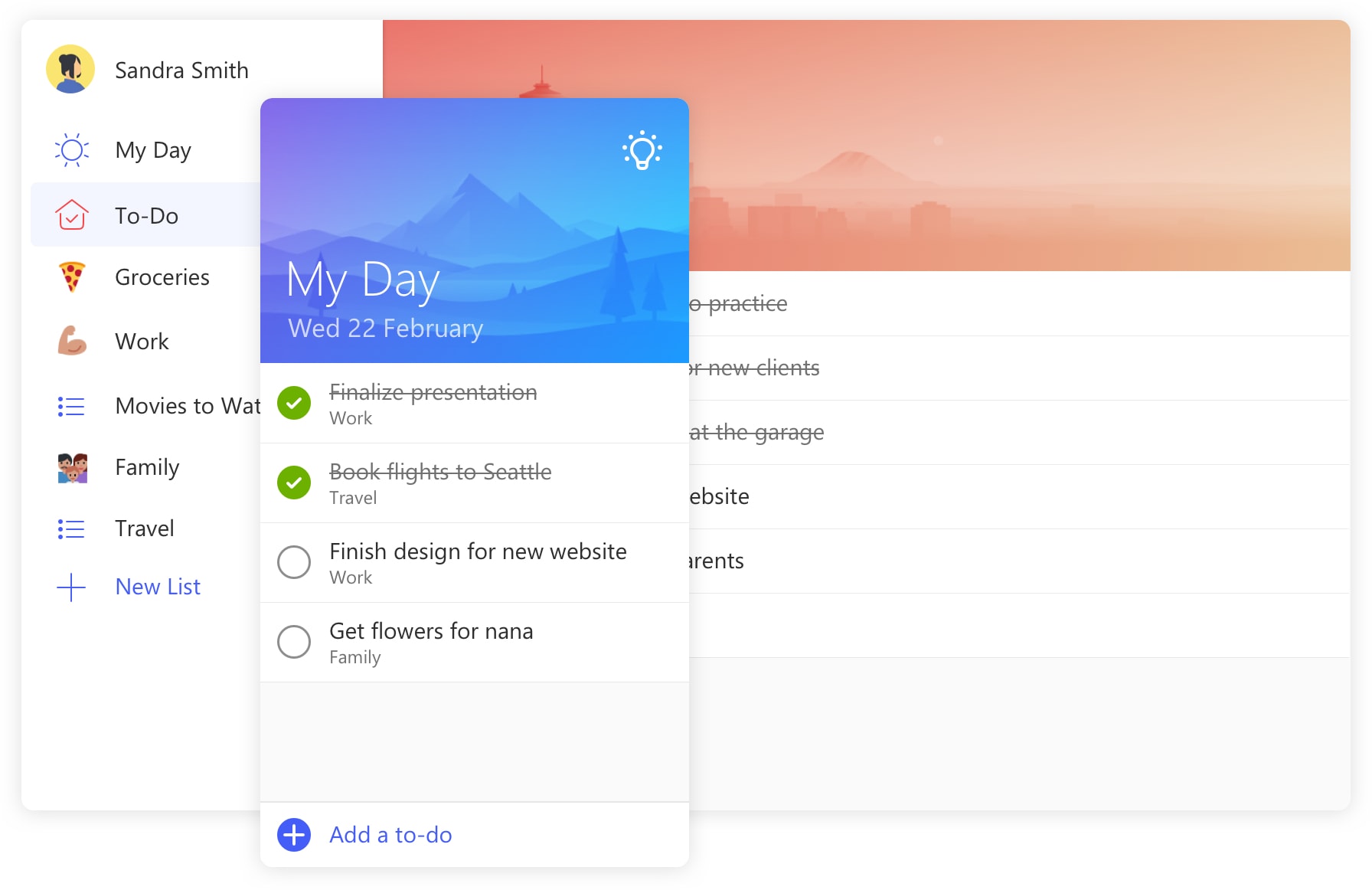 The Key Differentiator:
To-Do is Microsoft's replacement for Wunderlist and offers unique 'Today' feature that helps you plan your day each morning. Instead of displaying a list of outstanding tasks, it shows you a blank page each day to plan the day based on recommended tasks with upcoming due dates or the software's smart 'Today' feature
Microsoft To-Do is one of the simpler getting things done apps out there – instead of a hundred features to manage every possible thing, it gives you the basic features needed to plan out your day and work through your tasks
Our Base Case Setup:
Time taken to set up: 10-15 minutes.



What We Liked:
Nice visuals and easy connection to your Outlook account
The ability to plan each day from scratch with the platform's intelligent task suggestions is a nice touch
What We Disliked:
Still lacks many features that Wunderlist already had – no way to see upcoming things (weekly overview) and no easy way to deal with sub tasks
While the app is visually appealing, its not intuitive and navigating through it can be confusing and time consuming
Microsoft To-Do seems like it was rushed through production – bugs, random crashes, etc.
6. Omnifocus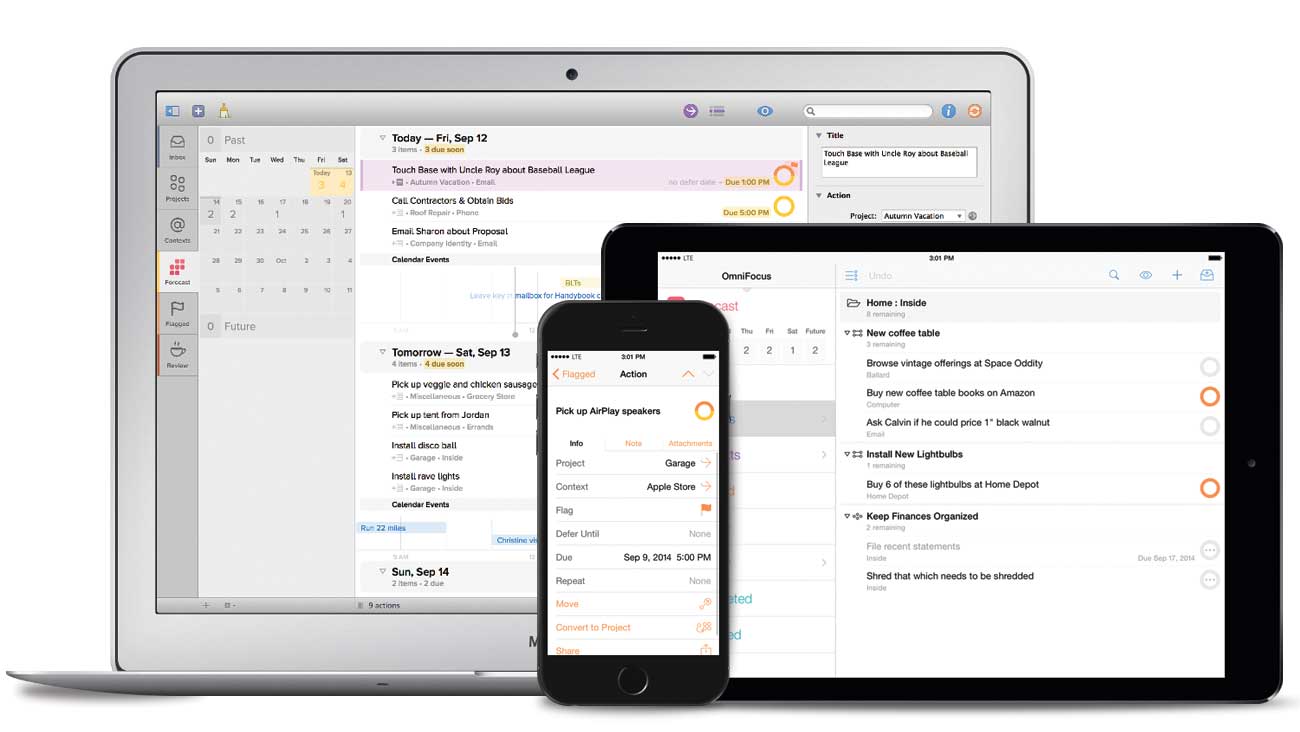 The Key Differentiator:
Omnifocus is a high-powered desktop application that syncs nicely across platforms.

It also provides nice integration features such as:

Syncing with your Mac calendar so everything is in one place

Syncing with the AppleScript library so advanced users can truly get the most out of task management
Our Base Case Set Up:
Time taken to set up: > 60 mins


What We Liked:
Many powerful features such as the ability to set internal reviews of projects before deadlines, and lots of potential for customization with a great AppleScript library
If you're on a Mac, many keyboard shortcuts are available to quickly jot down important notes
What We Disliked:
Can look unappealing for users and the crowded inbox can seem overwhelming and complex
Omnifocus is a powerful tool but bringing your employees in to use it will require many training sessions
Setting up Omnifocus is a tough process. First, you have to download a large file, sign up and, only then, can you start to use the software
It's difficult to change what would otherwise be simple things, such as the time of due dates on a task, recurring tasks, etc.
7. Things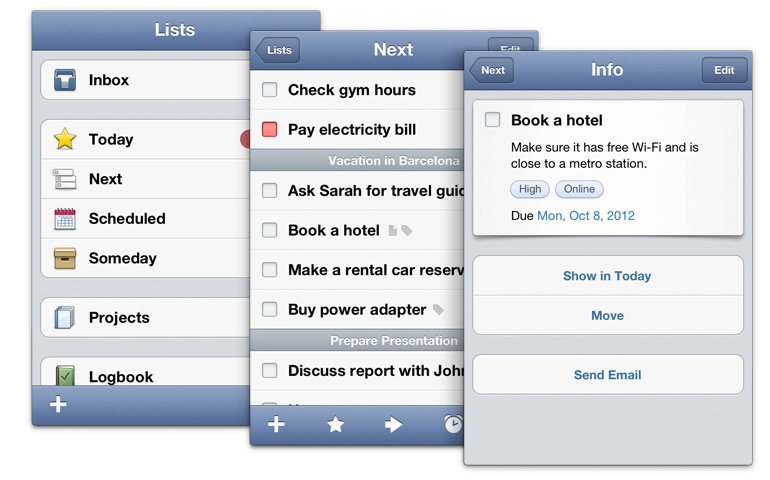 The Key Differentiator:
Things is a sleek, well designed, app with a nice user interface, especially in iOS
This app is more for personal use — a great user experience but with some important task management features such assigning tasks to people missing
Our Base Case Setup:
Time taken to set up: < 20 minutes


What We Liked:
The iOS interface is nice with a good degree of functionality
The desktop version has the ability to copy and paste tasks from excel spreadsheets directly into the tasks section
Simplicity – the app is easy to set up
The ability to create draft lists under the 'Someday' sidebar for later use
What We Disliked:
It doesn't allow repeating tasks inside projects, and the app doesn't allow you to allocate tasks to individuals, which places it in a difficult position for companies looking for a fully functional task management tool to drive business efficiency
You cannot access it with a browser on your desktop. It requires downloading
8. TickTick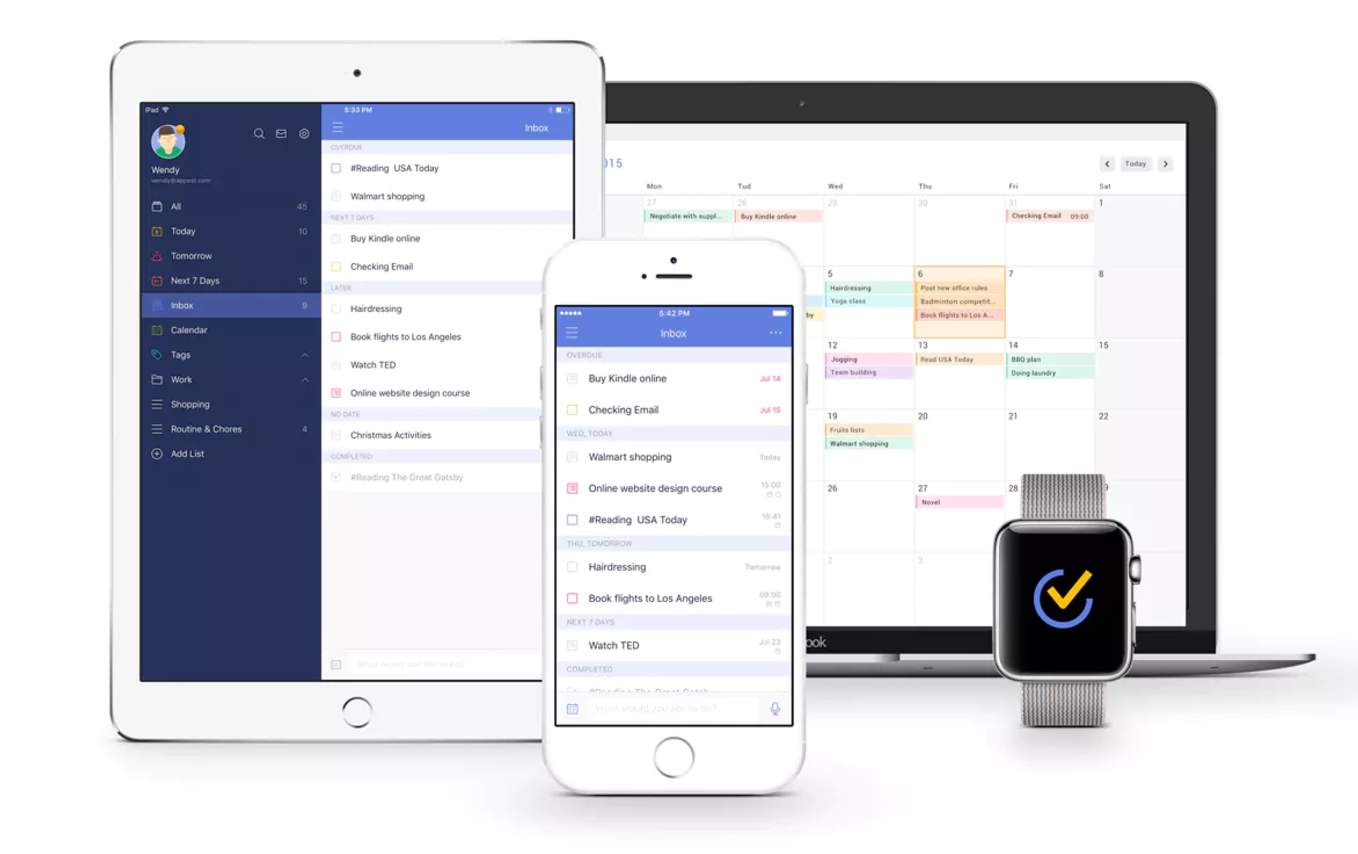 The Key Differentiator:
TickTick is extremely simple to use and it offers a unique way to filter tasks by using hashtags (#) to create new views

You also can add (@User) to easily notify and delegate tasks with notes to your co-

workers
Our Base Case Setup:
Time taken to set up: < 20 minutes


What We Liked:
Very easy to add new tasks and sub tasks with up to 4 different priority levels
The calendar feature does a nice job of highlighting task due dates based on color-coded categories
The ability to copy and paste tasks from other platforms and add batches of tasks from excel spreadsheets can save a lot of time
What We Disliked:
A lot of notifications (pop ups, tags, etc.) can seem like a nuisance at times.

It does not allow you to create reusable templates
9. Todoist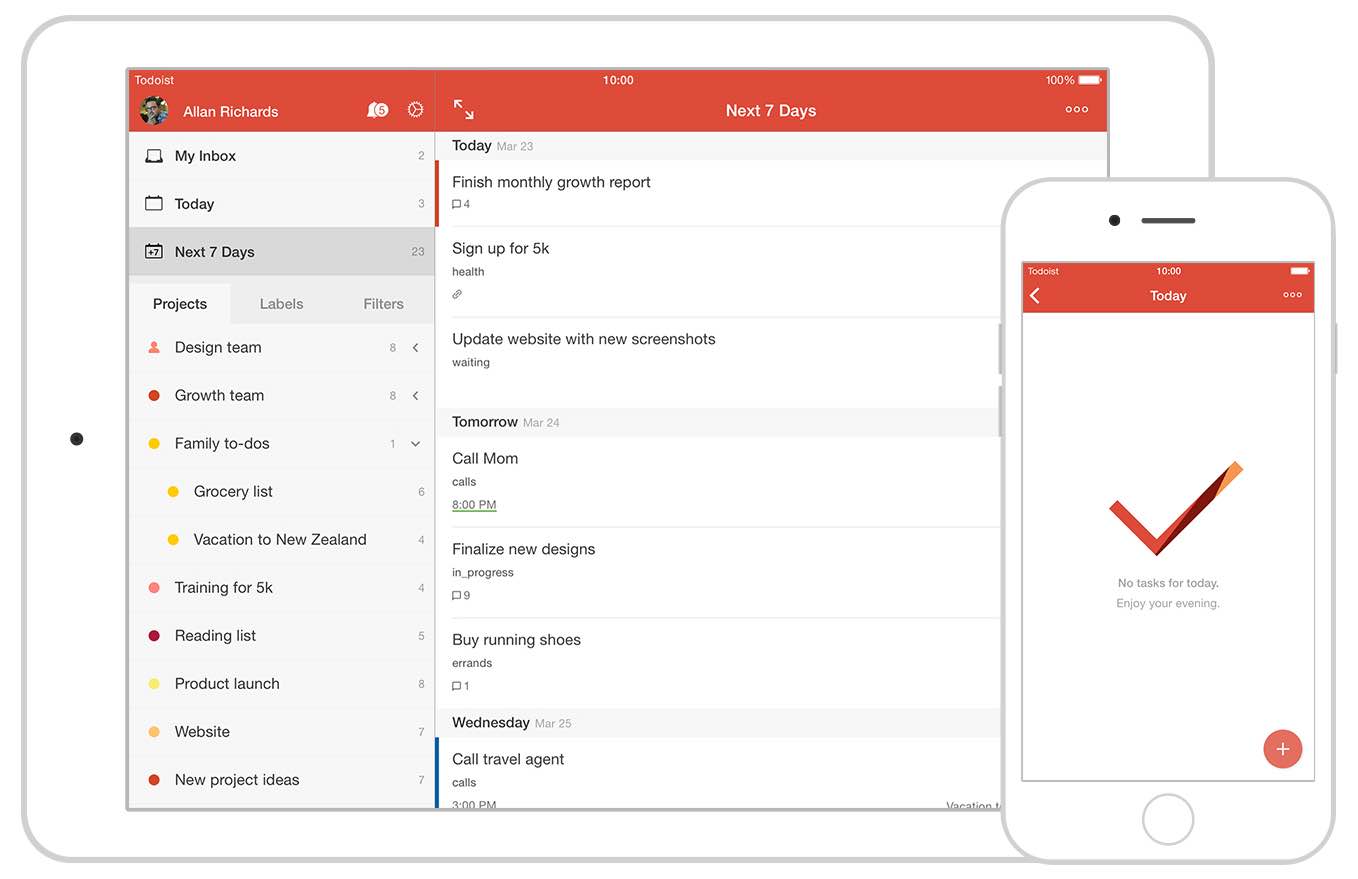 The Key Differentiator:
Todoist has Todoist Karma which lets you track productivity (i.e., number of tasks completed every day) to keep things moving – nice motivational tool
Also, the Twist feature is a nice messaging platform that works as a simpler version of Slack
Our Base Case Setup:
Time taken to set up: < 20 minutes

What We Liked:
Easy to use on any platform with a great user interface
The web-based app allows you to email tasks directly into a list

The sub-categories feature is very easy to use. We were able to quickly create a well-organized "Onboard James" list within our Employee Onboarding project
What We Disliked:
It takes a while to understand how to create a list of sub-tasks for a project
Also, a helper tool would be nice to give more direction on what each icon does – many seem bizarre until you try them out
10. Wrike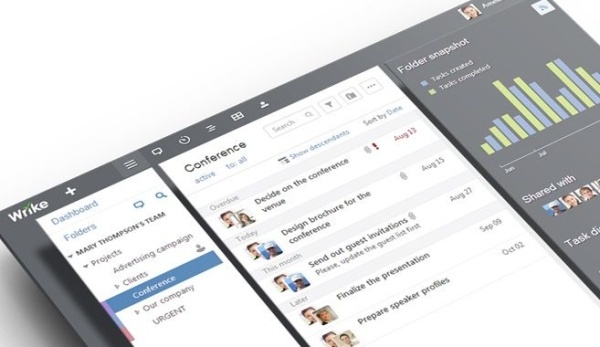 The Key Differentiator:
Wrike is not a simple to-do list but rather a more robust project management tool – with easy to organize projects for simple task management as well
Setting up templates as projects and embedding projects within one another is a nice feature to keep multiple projects organized
The ability to track progress of tasks, as well as the time taken to complete those tasks gives a good sense of how to optimize workflows

to make sure things get done on time
Our Base Case Set Up:
Time taken to set up: 20 – 50 minutes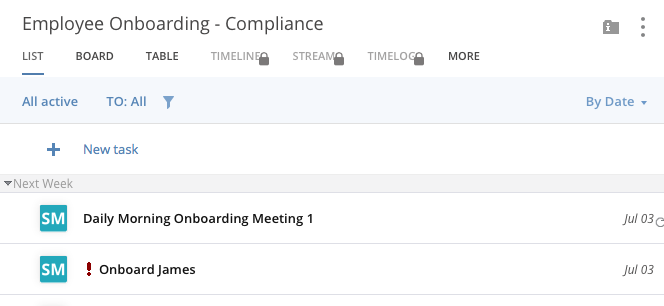 What We Liked:
Stream viewing lets you see all the updates for projects that are assigned to you, or projects that you follow and are assigned to your team
The reports function enables you to track project and team performance to find ways to improve performance in your organization

Wrike does a good job of enabling employees and management to check the status of tasks. The option to 'Follow' tasks keeps you in the loop about any status updates and messages related to a task or project
What We Disliked:
This is not as simple as other tools to learn how to use and could be difficult getting your team and employees to adopt for simple task management
The dashboard can seem crowded and overwhelming to look at, especially when you have daily recurring tasks that are listed each day
The Ultimate Goal: Accountability
Would you like to learn more?