Get More Done Every Day With Just 5 Minutes Each Morning
It can be tempting to show up to the office in the morning and immediately start doing things. Coworkers instantly start asking you to address tasks, your email inbox has filled up overnight, and your schedule quickly fills up.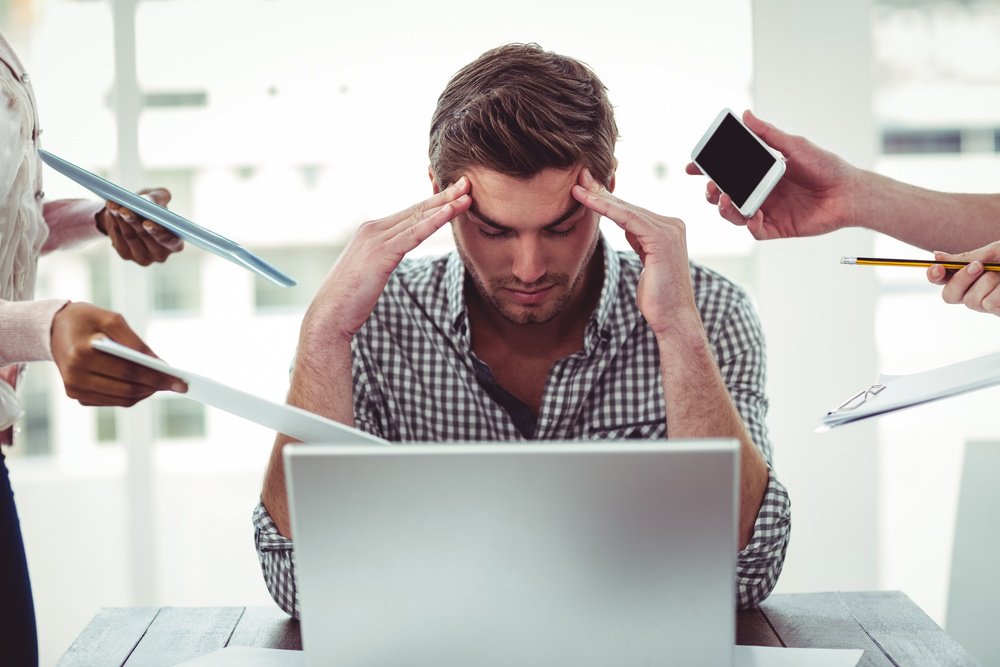 Start Your Day By Taking 5 Minutes to Plan Rather Than Diving Right Into Things
This can be a stressful way to start a morning, and studies have actually shown that it decreases your productivity in the workplace throughout the day. By doing instead of planning in the morning, you spend your day in a disorganized and frantic fashion.
Get more done by spending just 5 to 10 minutes at the beginning of your day to plan out your tasks and deliverables. This simple step can encourage you to be more organized throughout the day and spend more time actually getting things done.
Would you like to see how spending 5-minutes with an accountability platform like CommandHound each morning can make your whole day more organized and less stressful?
Step 1: Settle In
First things first- make sure that you are ready to settle into your work routine. That could mean grabbing a cup of coffee, briefly reading the headlines of the day's news, or catching up with your coworkers for a few minutes. Get these things out of the way so that you will be ready to focus once you actually get started working.
Step 2: Open Your CommandHound Dashboard
Sign in to CommandHound and go to your dashboard to, at a glance, see how things are progressing from the previous day. Green Control Towers (i.e., processes, projects) indicate that all the Control Points, or tasks, in them are progressing and being completed according to plan. No exceptions, no escalations, all moving along nicely. No need for you to spend time there.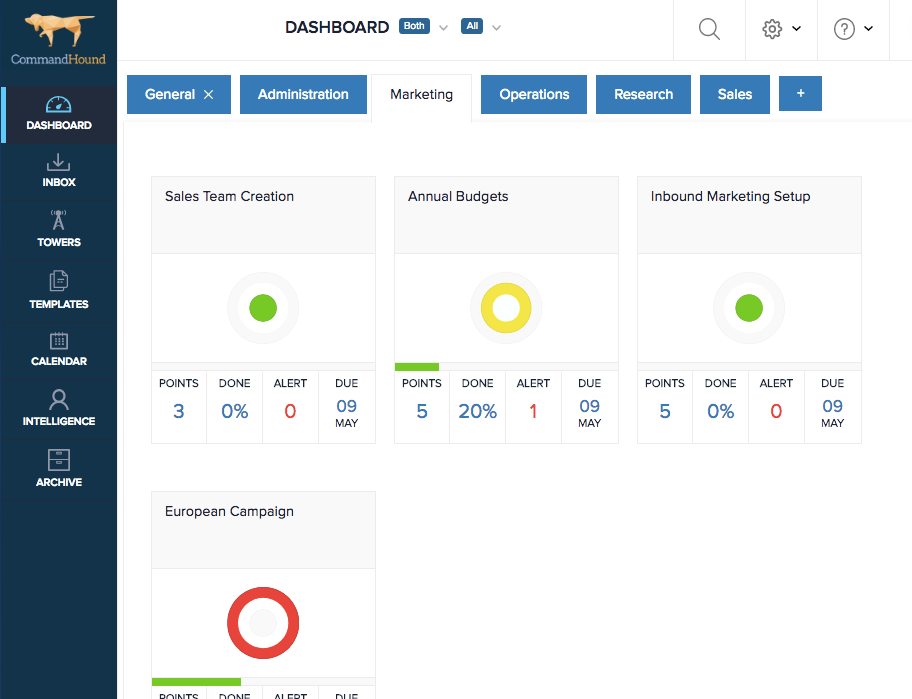 Control Tower Colors Show You What Needs Attention
Control Towers that contain tasks that you or a team member have let slip show up as yellow or red depending on the severity of the escalation path that has already started.
You can now investigate the situation by drilling down to find out the specific tasks that need attention. For each one of those tasks start by reading the notes left there from previous parties to get up to speed on the situation. Address, fix, or complete anything that is now assigned directly to you, and contact your team members when their notes need clarification. If you are in control of the project, you can adjust due dates and escalation dates if necessary, and reassign responsibilities as needed to make sure that projects never unexpectedly fall behind.
Once you have gotten a feel at a glance of the status of all your Control Towers and you have addressed all immediate issues and/or actions, you can now proceed to your CommandHound Inbox to see what is on your plate for today.
Step 3: Open Your CommandHound Inbox
You have the option of displaying what is on your plate for today, for the upcoming week, or for a specific date. Start with what is on your plate for today. Your Inbox will also show you your Control Points, or tasks, sorted by color so you are able to quickly understand the urgency of each task.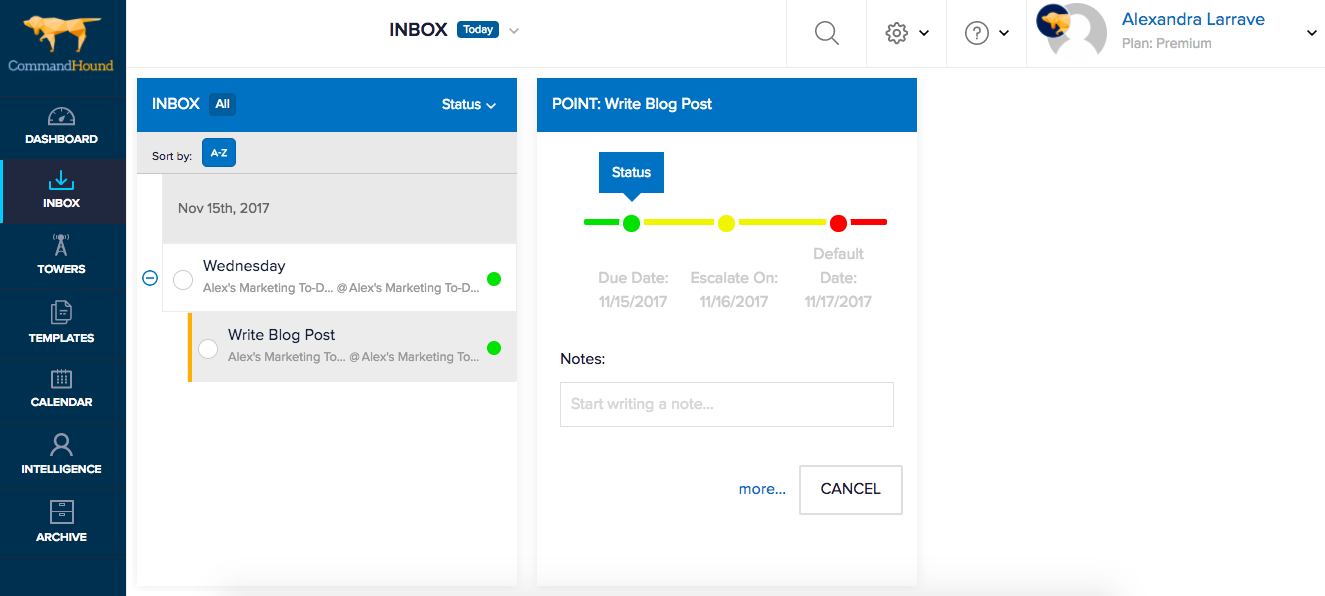 Your Inbox Shows You What Is Due Today and What Has Been Escalated to You
In your Inbox, you will find:
Tasks marked green– these indicate new Control Points assigned to you that are due today
Tasks marked yellow – these Control Points have been escalated to you and need attention or support
Tasks marked red – these are Control Points that have reached a critical point and need immediate action
As you address each of these Control Points, check off the ones that you have completed, adjust due dates, reassign responsibilities, or add notes. Because the Inbox provides you with a real-time daily task list, you can now be assured that things are getting done as expected and that nothing is falling through the cracks.
Not having access to an accurate, up to date, and dynamic list of what needs to be done at any given point in time is one of the biggest issues impacting productivity in the workplace.
Now that you have taken care of what is on your plate for today, you can then take a look at what is coming down the pipe for tomorrow, for the week or for the whole month for planning purposes.
Step 4: Open CommandHound's Calendar View to See Upcoming Tasks
Your Dashboard and Inbox show you the tasks that need your immediate attention, but a full understanding of your daily to-dos should also include thinking about any upcoming projects. The Calendar view in CommandHound gives you a clear perspective on upcoming deliverables, and prevents you from ever being blindsided by a spike in your workload.
The CommandHound Calendar view can be seen in a month-by-month format or in a Bar Chart by month.
Step 5: Open CommandHound's Intelligence to Check Your Team's Performance
As a final thing before leaving CommandHound and starting your day, take a moment to monitor your team's performance. The Intelligence section of CommandHound allows you to see how other team members are doing in completing their assigned Control Points or tasks as expected.
Do you see a pattern? Are some team members hitting it out of the park? Are there others that are struggling with the number of tasks assigned to them? Because CommandHound automatically tracks Control Point completion information by person, you can easily access this data whenever you want.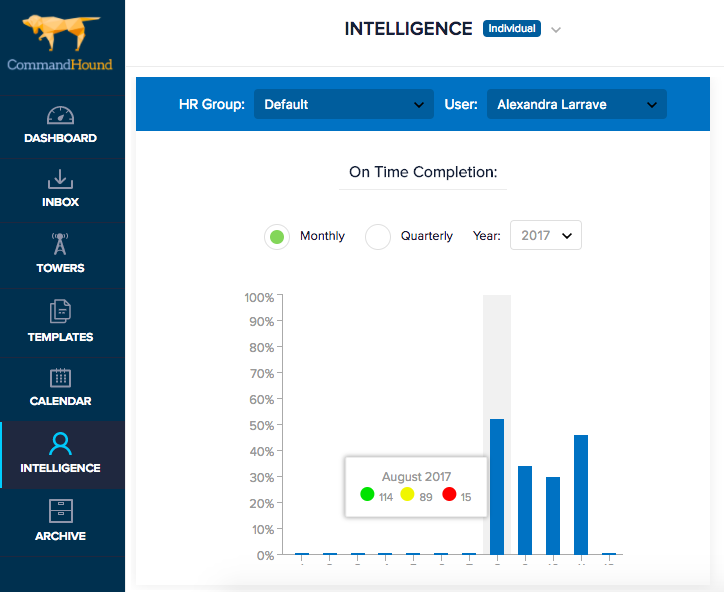 Track Performance with CommandHound to Hold Your Team Accountable to Make Sure Things Get Done
Conclusion
Ultimately, this 5-minute investment in the morning will give you a sense that everything is moving along as planned, that nothing is being forgotten, that your team is performing as expected, and that CommandHound will continue to monitor, remind, escalate, and report on critical tasks to make sure things get done.
Now you have your whole day ahead of you. What challenges will you conquer today?
Would you like to learn more about how CommandHound works to build a culture of accountability on teams?