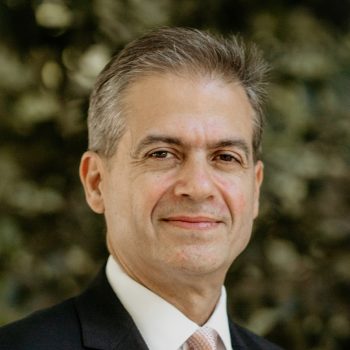 Mr. Rene Larrave has over 25 years of entrepreneurial and management consulting experience in areas that include business strategy, operations, business process redesign, and information technology in a variety of industries including financial services, retail, telecommunications, manufacturing, utilities, energy, hospitality, high tech, and entertainment. Throughout his career, Mr. Larrave has advised some of the most influential corporations in the world.
As an entrepreneur, Mr. Larrave has launched, managed, and sold a number of businesses. Mr. Larrave was the founder and CEO of Koios Works, a predictive inference data mining company; the founder and President of Calatestra Partners, an advisory, consulting, and private equity investment firm; the CEO of Neptune Wave Power, a power engineering company for which Calatestra led the A-round financing; the founder and CEO of Avvantica, a national business and technology outsourcing company; the founder and President of Tactica Technology Group, a business and technology consulting company; the founder and President of Motopia, a restaurant and business center with a European motorcycle theme which is in the process of expanding to other locations around the world.
Prior to his entrepreneurial ventures, Mr. Larrave was a management consultant and management team member with Booz, Allen & Hamilton and Deloitte Consulting in both their London and Dallas offices. He has held Computer Science, Electrical Engineering, and Business Administration teaching positions at the University of Texas (UT) at Austin, Monterrey Institute of Technology, and, currently, at Southern Methodist University (SMU). He is, or has been, a member of the Young Presidents' Organization (YPO), the Young Entrepreneurs' Organization (YEO), and the World Presidents' Organization (WPO) and is a member of the board of directors for a number of for-profit and non-profit organizations.
Mr. Larrave received an MBA from the University of Texas at Austin and a BS in Computer Science and Electrical Engineering from Monterrey Tech and Ohio State University. He is also a Certified Management Consultant with the Institute of Management Consultants.